You have just started your online business. Kudos to you for taking this brave step. What you have before you is a long haul towards the very future of almost all trades. Now, you may be wondering what else you can do to boost your sales. Compared to conventional businesses, straight-forward advertisement to hasten up your return of investment is not always effective. Optimizing your conversion rate requires more than just reaching your conversion goal. As an e Commerce businessman, you need to know your way around the basic strategies and tools. This will serve as the foundation of your company before the shifting tides of e commerce gets the best of your company.
First of all, invest on a good set of power tools to gather datas you need to effectively optimize your website. This article will discuss five important tools that, altogether, lay the foundation for a solid conversion optimization strategy:
A/B Testing
A/B testing is the fountain of youth for your conversion rate optimization. Here's how it goes: A/B testing enables you to present two or more versions of your web page. Once the site traffic for each version is determined, comparing these versions easily follows. Which web page version gather more visitors? Which of these rank do people click the "add to cart" button? Which of these pages result to successful conversions?
Simple, right? In fact, it could be fun, even. Running tests and watching the development of how the it is going -- figuring out how your visitors react to different versions -- doesn't sound complicated at all. However, A/B testing platforms thrive best when integrated with other tools.
You can use more than one version of homepages as variables. However, the more versions you have, the more difficult it will be to end up with the proper conclusion. You have to make sure that the population of website visitors per version is of significant amount. Therefore, narrowing down your versions will make it easier to determine the most effective approach. But just how will you be able to come up with quality versions to begin with? You need to have, at least, a clear view of your website's strengths and weaknesses. Every version you create must be founded on this insight. That said, you will be needing other tools to optimize this strategy.
2. Analytic Services
Examine your raw data and be aided in drawing conclusions.
After performing A/B testing, you might think it's going to be like a domino effect of proper strategies to come unfolding one by one. This is not always the case. Which is why you need to pair it up with analytic tools.
Coming up with a proper ecommerce strategy requires performing several researches before coming up with ideas to include in your A/B testing platforms. You will be greatly needing the data to know what is going wrong with your website, be it exit rate, bounce rates, or shopping cart abandonment rate. Analytics software does just that by tracking your site's performance 24-7.
There are plenty of analytic tools you can find depending on your business size, type, and traffic. For most companies however, Google Analytics pretty much does every useful trick.
3. Marketing Automation
Wouldn't it be best to have an assistant who can perform all the repetitive, yet significant, activities in your behalf? In this way, you can put more attention on more demanding and equally important priorities. That's basically what marketing automation does in the nutshell. Maintaining online customers requires constant personal touch via e-mail updates, call-to-action messages, up-selling and cross-selling offers, and other personal interaction.
Nurture your prospect partners with personalized, useful content to help convert your regular visitors into delighted buyers. By installing marketing automation tool for your website, you can focus more on coming up with your best conversion optimization strategy while keeping your current visitors well noted. In this way, you can continuously generate revenue while working other activities of equal essence.
4. Heat Mapping
If analytic tools help you detect what is wrong with your website, heat mapping tools enable you to easily determine what activities in your website is most popular. It shows you where people are clicking, how many scroll down your pages and where most of them stop.
A heat map is graphical representation of data where values are represented as colors. Because of this easy to interpret visual feature, heat mapping is well suited for better visualization of what your visitors most frequently engage in your site. This, in turn, gives you better insights on how to optimize your landing pages, sign-up forms, and shopping carts.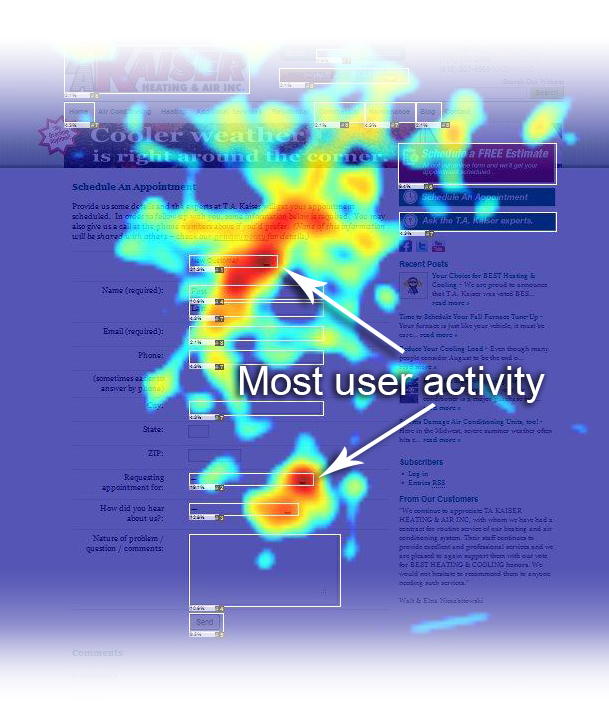 5. Social Customer Relationship Manager (CRM)
Being on the eCommerce field, you are aware of how social media holds enormous potential for companies to get closer to customers and thus increase sales. You may have already been promoting your business on facebook, twitter, and other social media sites.
However, taking care of these pages can be quite tedious. With the rising number of customers expressing either complaint or compliment on your product via twitter and facebook, you can easily lose control of your company performance if you do not get to respond quickly.
Allow CRM tools to do this job for you. By using CRM applications, you can better organize, monitor, manage and respond to your customers' feedback. There are plenty of free-trial packs to help you easily track conversations about your company that happen via e-mail, Twitter, Facebook or Linkedin. These softwares also help easily retweet, reply, post on Facebook walls and add friends.
Are these tools expensive?
Yes and NO! Trustradius report shows that 58% of eCommerce marketers spend more than $10, 000 on analytic tools to optimize their conversion rate. Good news is you can find free startup tools and trials packs to begin with. By the time your website progresses and your net increases, you may start thinking of expanding your business which may require more expensive tools. In the meantime, however, it is definitely not practical to spend a huge sum over something you perform do for free.
Conclusion
As you may have observed from this article, conversion rate optimization requires a proper framework on (1) research, (2) testing (3) analysis, (4) implementing winning results, while at the same time (5) keeping track on your customer's relations. Without the proper set of tools, do not expect to gain a full insight of your web page and convert your visitors. Remember, even the best handyman does not fix things without his tools.