April 15, 2021 Update: UB Atoms v1.0.0 stable released!
Mar 26, 2021 Update: UB Atoms v1.0.0-beta3 is now available, with improved theme admin panel. View details.
Feb 5, 2021 Update: UB Atoms v1.0.0-beta2 has just been released, with a new Fashion homepage added.
This week there's big news for you: UB Atoms (beta) has just been released! Over the past months, our team has been working hard on this and it's ready for you to try out.
UB Atoms is inspired by Atomic Design -- establishing the basic building blocks for pages, such as grids, color, typography, form label, input or a button, and the like.
It is the newest premium Magento 2 theme available in 2021 at Ubertheme.
UB Atoms offers multiple layouts and robust admin options, plus easy customization. It gives you ultimate control over the look and feel of your Magento store. And there are lots more you can do with it.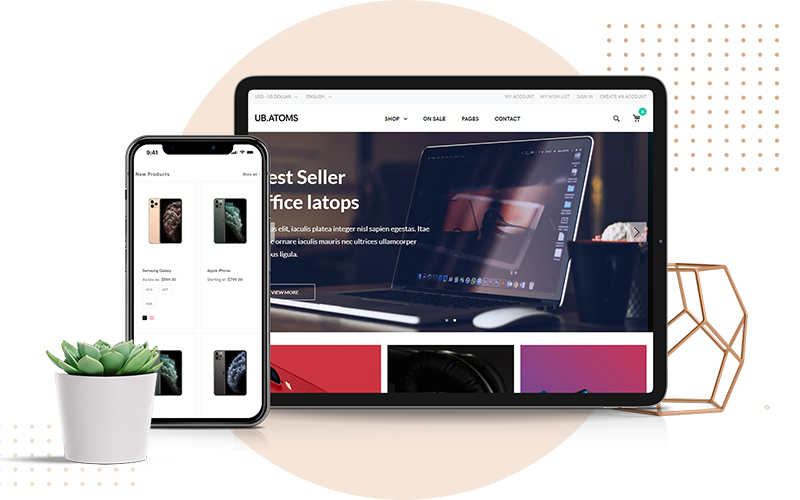 Feature overview
Before we get started on the top features, keep in mind that UB Atoms is not only our most recently created Magento 2 theme but is also unique in that it's our only theme that the whole theme structure has been re-created from scratch.
It takes advantage of the Magento UI Library and is fully compatible with the standard fallback mechanism proposed by Magento 2.
Here's a roundup of the main features this theme has to offer:
Ready to use layouts
With pre-designed page layouts to choose from, UB Atoms gets you started quickly without needing to start from scratch. The first beta release lets you elegantly showcase (Technology) products, promotions, videos, and more. Future updates will come up with more ready-made homepages with different layouts (Fashion, Furniture, etc) to give you the best possible starting point and makes it easy to create a look that matches your business's branding.
With the help of Flexbox -- a short term for CSS3 Flexible Box Layout, UB Atoms brings an added layer of design and layout flexibility. The Flexbox grants you more control over a grid system that helps align elements horizontally and vertically (to the left, center, and right), and size them accordingly to their parent. You can take a closer look at the Flexbox that UB Atoms does support via this article.
Premium built-in extensions
UB Atoms integrates seamlessly with our premium Magento 2 extensions, the easiest way to offer powerful functionalities to your store:
Robust Admin Options
UB Atoms makes it easy to customize your storefront with countless options for styling, typography, layout options, design. Its highly-configurable page elements and layout options make it possible for you to suit your product catalog and create a look that's entirely your own.
Besides the standard theme options, we've introduced a new way to manage and configure theme color profiles. To customize theme color options, simply open the UB Atoms theme panel then go to Theme > Colors, and voila! You can see at a glance default theme color options like Base Color, Header Color, Mega Menu Color, etc.
UB Atoms also brings you a new easy way to get total control and change fonts as much as you'd like. It comes pre-built with different Google fonts to choose from inside the theme admin panel. If you want to create extra branded and professional style, UB Atoms lets you achieve that with custom fonts. Under Theme > Typography, you have full control over typography settings -- Base, Headings, and Links.
Fully responsive and customizable
UB Atoms allows you to make direct additions and edits to the theme's code using custom CSS without having to leave the theme admin panel. You can also upload custom CSS files to override the default styling of the theme if you choose to.
Besides, UB Atoms makes it possible for you to create multiple child themes to override any parts of the existing parent theme. Using a child theme lets you upgrade the parent theme UB Atoms without affecting the customizations you've made to your child theme.
How to get it
If you're looking for a powerful, large-catalog Magento 2 theme for your store, UB Atoms may be a great fit for you. Check out our demo, learn about its innovative theme features and get the theme here.
The future of UB Atoms
It's important to note that this is version 1.0 only -- so this is only the beginning. We are planning a series of updates that will be released to bring even more features and layout options to this theme.
Tell us what you think
We'd love to hear what you think of UB Atoms. Send us your feedback, including which features you'd like to see in future versions, to info (at) ubertheme.com.