Magento fellows,
We are so excited to announce that UberTheme.com is launched today!
UberTheme has the mission of creating the most professional Magento themes & Magento extensions. Dwelling from the house of JoomlArt, we are longing to build a fully Magento dedicated community around the design, functions, basic knowledge, tutorials and tips for Magento eCommerce.
Share with us the awesomeness
Following up the Grand Opening Sales, you can still grab our themes and Developer Packages with 20% OFF the price! Simply enter coupon code UBMAGE20. Offer ends in 25th Oct 2014.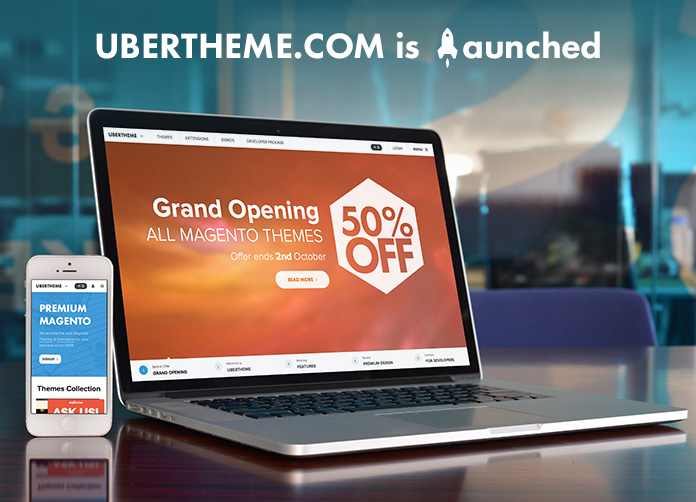 [Expired offer] Join the Grand Opening event of UberTheme with 50% OFF the entire store! Simply enter the code UBMAGE50 when checking out to claim this.
A walk through our UberTheme site
There you go the Magento Themes Collection that showcases 65+ premium and free designs from us. We've got designs especially for fashion shops, bookstores, sport sites, game & entertainment stores, interior stores, and so.
This section gives you detailed info about our powerful complementary Magento extensions. These are exclusively developed for our Magento themes.
The Demo section will help you have the full experience of our Magento themes on the fly. You can also customize the theme yourself with our Demo Builder. Woot!
This is our most beneficial and best selling package: the All-in-One package for ultimate access to all Magento themes and extensions in 1 year duration. If you are veteran developers, and you work with multiple Magento projects on a daily basis, this package is yours to grab.
This will be one of your most frequent section. Not only to give you the best and to-the-point support, Question section also offers a place for the Magento colleagues to discuss and exchange knowledge.
Blog section gives you the latest reviews, News & Updates as well as suggestive tutorials. We update it everyday, so stay tuned!
Check this out for Magento basic guidelines or themes' documentations.
Also don't forget to check our About page, and your profile page. It must be fun!
All users from JoomlArt will need to activate their account (one time process), please check inbox for activation email sent during 25-26th Sept 2014.