April 15, 2021 Update: UB Atoms v1.0.0 stable released!
Feb 5, 2021 Update: UB Atoms v1.0.1 beta has just been released, with a new Fashion homepage added.
Nov 26, 2020 Update: We've just introduced the UB Atoms theme hierarchy that we're working on here. It is fully revamped, unlike any other Magento 2 themes that Ubertheme has offered
We're excited to introduce you to a sneak peek of a revolutionary new Magento 2 theme. It's called UB Atoms.
Inspired by Atomic Design -- a methodology of creating modular designs, UB 'Atoms' is designed to be exactly what it sounds like -- establishing the basic building blocks for pages, such as form label, an input or a button, color, typography, grids, and the like, rather than just creating simple collections of web pages.
The theme structure will be fully revamped, unlike any other Magento 2 themes that Ubertheme has offered.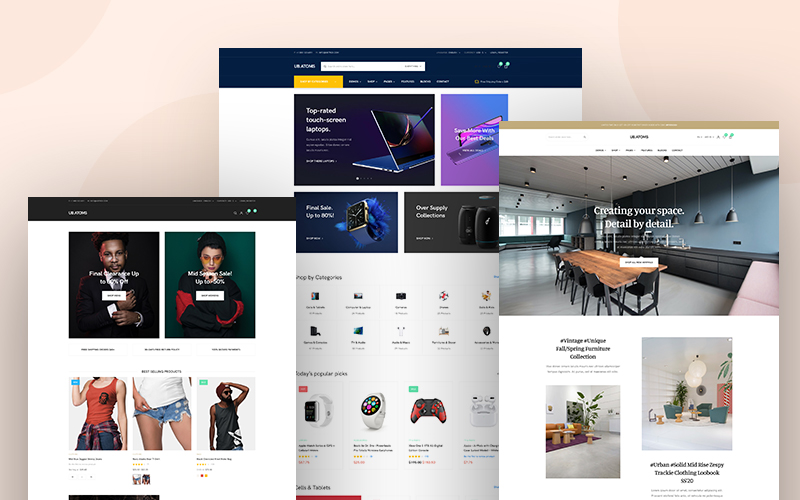 The theme overview
UB Atoms will come with a whole new set of homepage layouts. The first release will be packed with one default Fashion homepage layout, however, keep in mind that, we keep adding multiple new layout options later on.
Like all other Magento 2 themes at Ubertheme, UB Atoms comes bundled with the foundation of every theme:
Optimized Parent and Child theme structure
UB Atoms will follow the Magento guideline to ensure the theme inheritance which is based on Magento's fallback mechanism.
This is aimed at enabling you to easily extend the UB Atoms theme and minimize the maintenance efforts. You can use a child theme as a basis for customizations, or minor design updates. It gives you the possibility to customize an existing parent theme without modifying the parent theme files directly.
UB Atoms will also be fully compatible with the latest Magento 2's rules on frontend theme development and make use of Magento UI Library including advanced Less mixins. All the user interface elements in both UB Atoms parent and child themes will be structured in accordance with the Atomic Design guideline.
Besides, you still have full control of the theme configuration via the advanced UB Theme Helper panel.
We will provide more details about the file structure of the UB Atoms theme in a separate article soon.
This is only the beginning of the theme
Don't forget that this is version 1.0 only -- you might say we're only in the early phase of pushing the UB Atoms flexibility.
We're already hard at work on a series of Electronic and Furniture homepages, plus more Fashion homepages that will be released to bring even more layout options to this theme.
There will be no additional fee to download the updated theme once these new homepages are available.
We hope you like the UB Atoms preview. Let us know what you think …
PS. If you have any suggestions or questions about this brand new Magento 2 theme not just design but the features, do not hesitate to contact us on email info (at) ubertheme.com.