Jun 25, 2020 Update: A new Furniture Homepage has just been added to UB Trex Pro. Fully compatible with Magento 2.3.5-p1. More details here.
Some of you already know and use UB Trex -- our free Magento 2 theme, but this week, we have finally launched our premium Magento 2 theme -- UB Trex Pro. Having this premium theme available is incredibly important for so many reasons, the most important being that we have completely re-constructed the robust theme configuration panel and code base.
With the power of UB Theme Helper, there are many advantages to using UB Trex Pro theme and customizing your entire site parts using UB Theme Helper, without having to deal with conflicts or code.
Apart from that you now have all premium M2 modules bundled in the theme -- UB Mega Menu, UB Content Slider, UB Quick View, plus a suite of pre-made layouts and many new features.
Let's look at some of the new features to learn the ins and outs of this amazing theme.
Multiple homepage layouts
In the first release of UB Trex Pro we are including one core homepage only. However, we will be including two new layouts (Interior and Lingerie) in the upcoming release.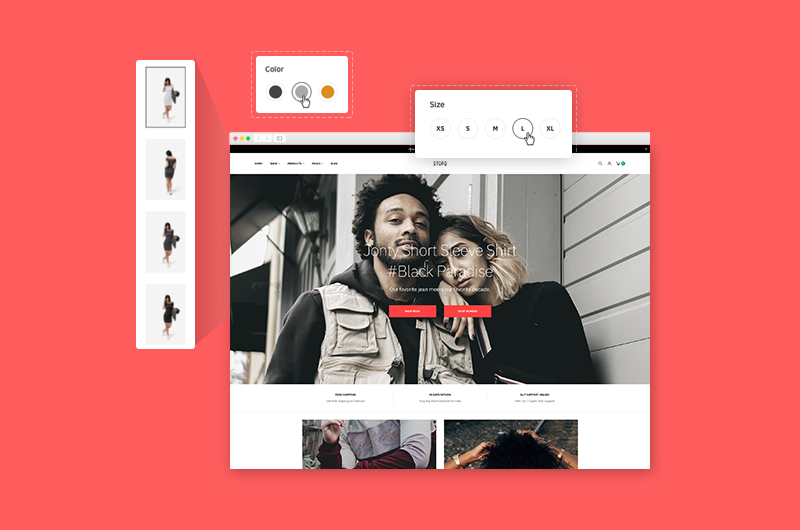 Shoppable mega menu
When viewing the homepage, you'll notice that our advanced UB Mega Menu module is built in UB Trex Pro theme by default. It gives you the power to transform your top-level menu item into a two-dimensional dropdown layout. It provides sufficient space to present your store in categories and subcategories, revealing all content at a glance.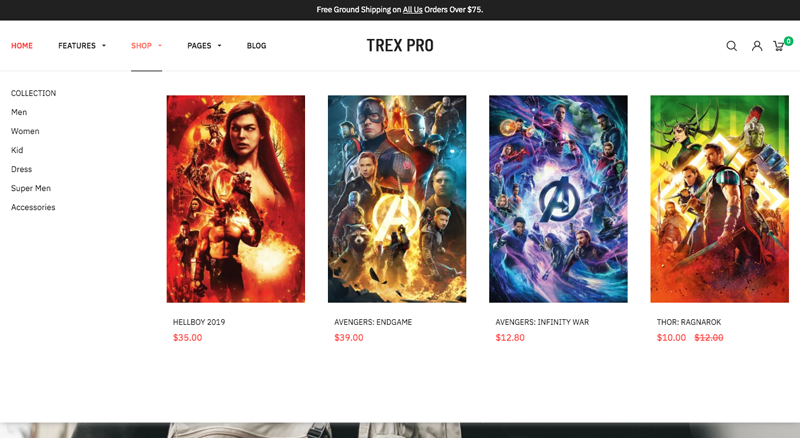 Mega menu is particularly helpful for presenting featured product images or banners for promotion ideas alongside. The easy to use Drag and Drop admin interface allows you to structure and rearrange any rich content in your store navigation.
Eye-catching animated slideshow
In addition to mega menu, UB Content Slider module gives you another handy way to grab the attention of shoppers with an impressive slideshow and lively animation effects.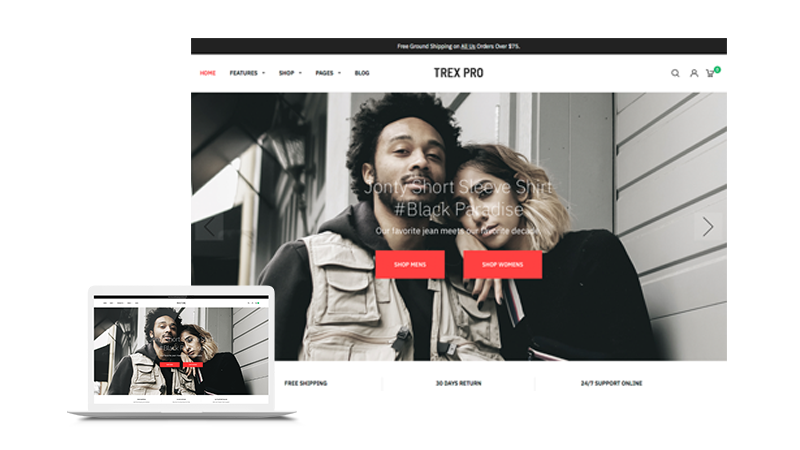 Presenting the New & Hot collection, trending latest products, brands, uploaded videos, promotional offers etc., has never been easier. You have full control over the configurations to define the animation effects, store view, time duration etc.
Quick View
Another great way to boost conversion with UB Trex Pro is the Quick View integration. It is enabled by default on UB Trex Pro's homepage, category page and search page. It gives your shoppers a quick access to product preview in one click and allows to add it to their cart without having to go to the individual page. This makes browsing products easier and faster, leading to a more fluid checkout flow.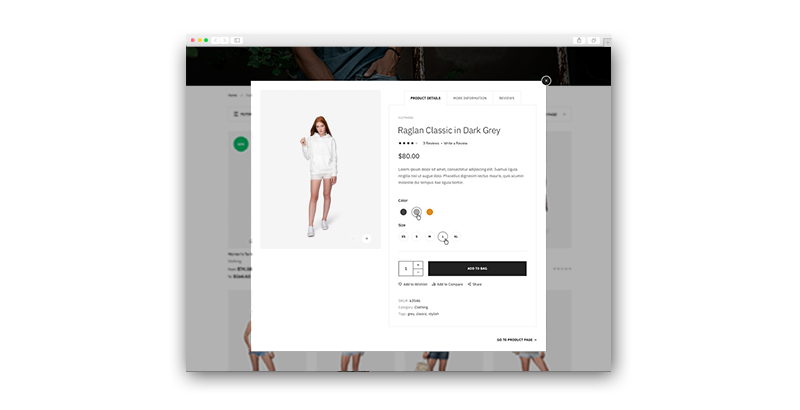 3 Category View Options -- Sidebar Left, Sidebar Right and No Sidebar
No matter what you sell, category pages are important merchandising touchpoints and can have a big impact on search engine optimization (SEO). So UB Trex Pro does the heavy lifting by providing 3 category page layouts to get you started:
Category Page With Left Sidebar
Category Page With Right Sidebar
Category Page Without Sidebar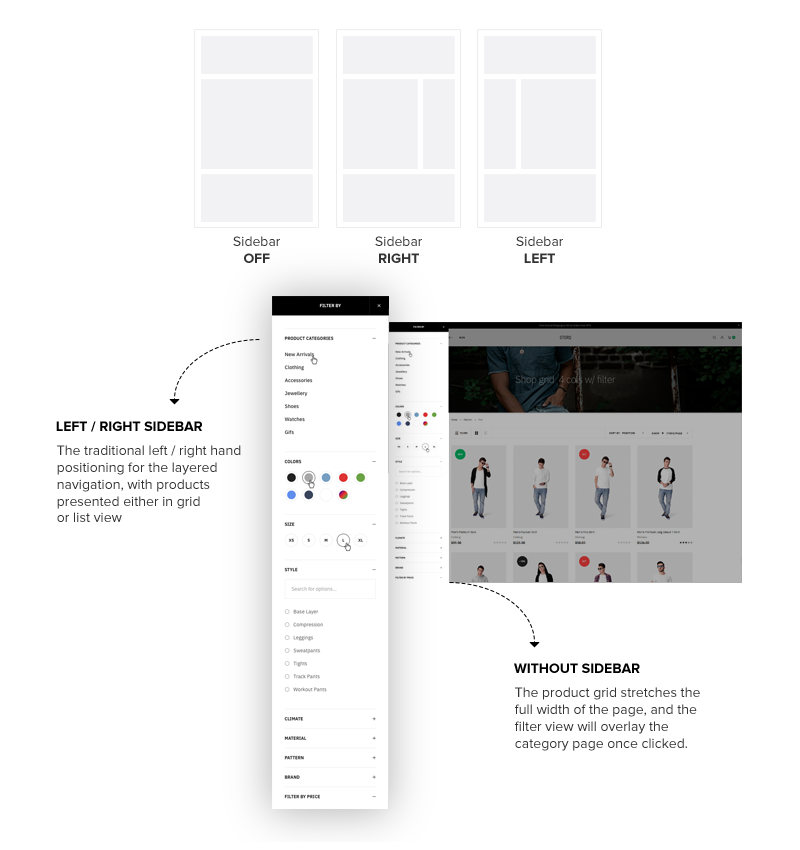 The first two layouts keeps with the traditional left / right hand positioning for the layered navigation, with products presented either in grid or list view. This makes the subcategory and attribute filters visually clear where a shopper has landed.
If you want to minimize clutter on your category pages, you can use the layout without any sidebar. This means the product grid stretches the full width of the page. The upside to this layout option is that it gives you more space to flexibly define the number of product columns (UB Trex Pro supports up to 6 columns). With this approach, the filter button is paired with the sort button on the top, and the filter view will overlay the category page once clicked.
UB Trex Pro also ships with different types of loading and presenting the category page e.g. infinite scrolling (the ability to view a whole category on one page) for a smoother interaction with the shoppers or simply a button of Loading more.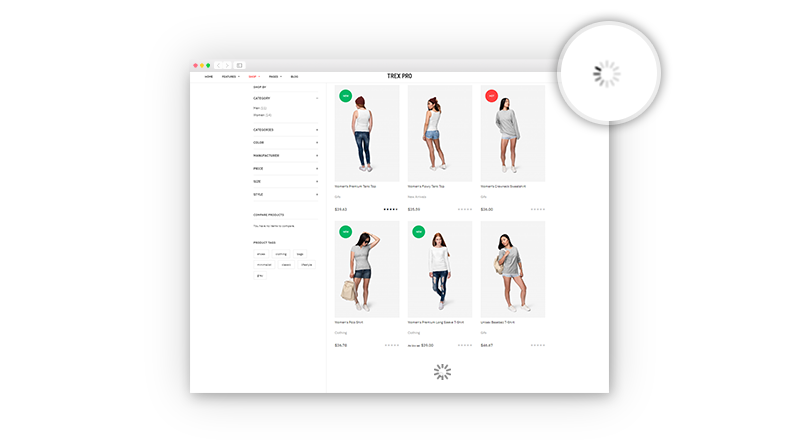 Up to 6 product page layouts
A successful product page can be the difference between making a sale or losing the customer to one of your competitors, as the Baymard Institute so elegantly puts it:
"It's often on the product page where users make up their mind on whether or not they want to purchase the featured product.
This makes the product page layout, product page design, and features, the centerpiece of the user's ecommerce experience."
That's why UB Trex Pro includes a powerful set of product layouts which allows you to test and find the option that works best for your business.
Product Page Layout #1: Classic Product Page
Product Page Layout #2: Horizontal Classic Product Page
Product Page Layout #3: Fullscreen Product page with Slider
Product Page Layout #4: Fullscreen Product page with Fixed content
Product Page Layout #5: Product Page with Accordion
Product Page Layout #6: Product Page with sidebar column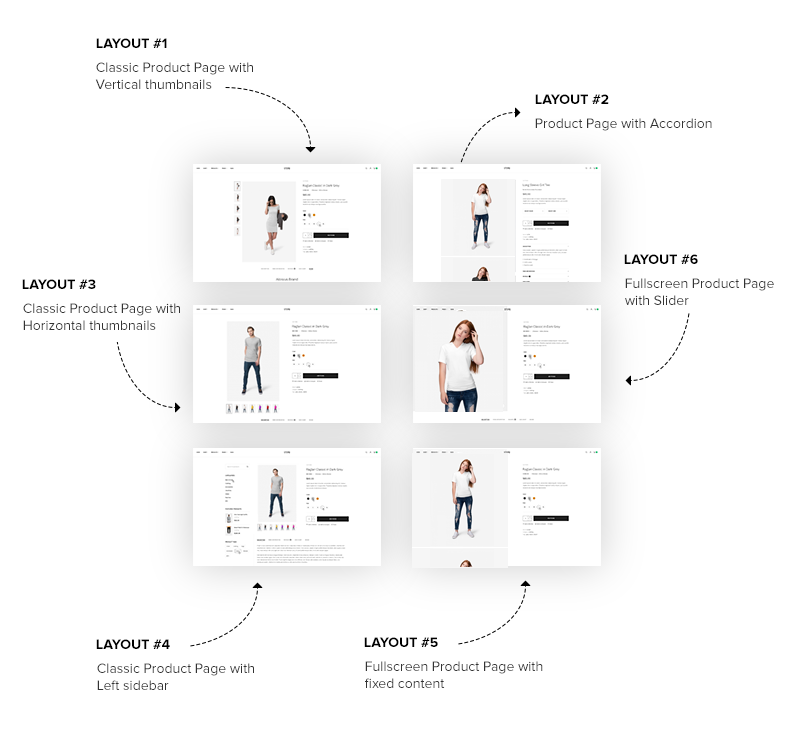 These page layouts all share a few things in common: providing all the feature image and variant options, product details and brand values, similar product suggestions (upsell and cross sell) without distracting your shoppers from taking action.
Powerful Admin Panel
A major time-saver is the UB Theme Helper function that is part of UB Trex Pro theme.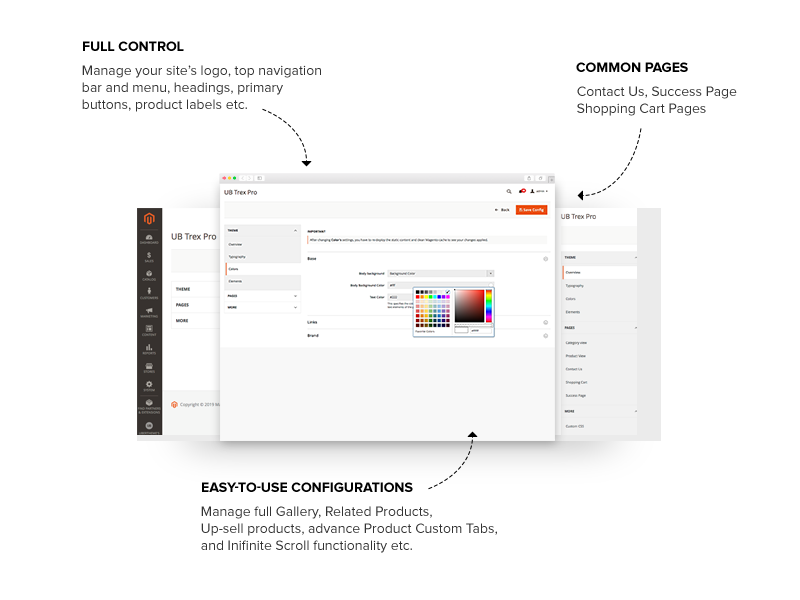 From the UB Theme Helper panel, you can access some pretty important stuff relevant to any website. Under Theme settings, you can manage your site's logo, typography, color, top navigation bar and menu, headings, primary buttons, product labels and infinite scroll etc.
Under Page settings, it gives you control over configurations of category page and product detail page including full gallery, related products, up-sell products and advance custom tabs functionality etc. Apart from that you can modify other common pages like Contact Us, Success Page or Up-sell section on the Shopping Cart page.
Flexible Customization
From the very beginning of UB Trex Pro we created flexible ways to help you add additional customization within UB Trex Pro.
The process is made easy enough with the custom CSS option in the UB Theme Helper. From here you can add any additional code to modify the theme's appearance.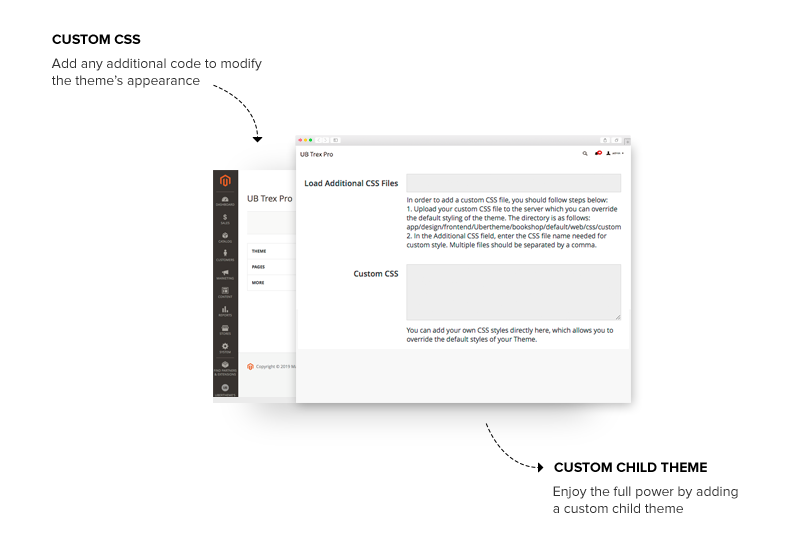 For those who are looking to build their own custom websites in substantial ways, you can enjoy the full power by adding a custom child theme (we will provide further details in the theme's user-guide). This child theme inherits all the functionality, features, and style of UB Trex Pro theme. This is a safe way to modify and personalize UB Trex Pro theme without actually making any changes to the theme's files. When UB Trex Pro gets updated, changes made in your child theme are preserved and applied on the updated version as well.
Fully Responsive
Out-of-the-box, UB Trex Pro is fully responsive. It will resize and reorganize all content without you needing to do anything. You can set the number of products on the category pages on desktops versus mobile devices, giving mobile users a better browsing experience.
UB Trex Pro is a lightweight, minimalistic Magento 2 theme.
Get Started With UB Trex Pro

We are celebrating UB Trex Pro with a special 20%OFF all new purchase. This deal will only be available for a limited time, so be sure to grab the offer before it's too late.
Buy Now With Introductory 20% OFF
(Use the coupon code: UBTrexPro)
Ready to play with it first? Simply browse the store demo and admin panel demo (preview only) below to take a closer look.
Admin Username: ub -- Admin Password: [email protected]
At present, we're working on the UB Trex Pro Documentation that helps you quickly install and configure the theme. Please read it carefully, it will help you eliminate most of potential problems with incorrect configuration.
We love to hear your feedback and ideas. Our forum helpdesk is the place to get in touch and interact with us and fellow developers.