Installing with Magento Connect Manager
NOTE:
UB Trex
-- our free Magento 2 theme is available for download.
Let's get to know how to install Magento themes and Magento extensions with Magento Connect Manager.
Introduction
Once installed the Magento base, you will get a default theme from Magento. If you want more than the default appearance and functionality for your Magento store, the simplest way is to install your desired theme and extensions through Magento Connect Manager.
Why should I install through Magento Connect Manager?
Developed by Magento Commerce, Magento Connect Manager is the basic tool for you to install and upgrade your Magento stores. You can proceed the whole installation and config steps in your back-end. However, using Magento Connect Manager, you can only install the themes and extension that have been uploaded to Magento Connect.
Installation Instruction
Follow steps by steps as below to get it done for your eCommerce site.
Step 1: Enter your Magento Connect Manager
1. Log in to your Admin Panel.
2. Navigate through System >> Magento Connect >> Magento Connect Manager.
3. Log in to the Magento Connect Manager with your admin Username and Password.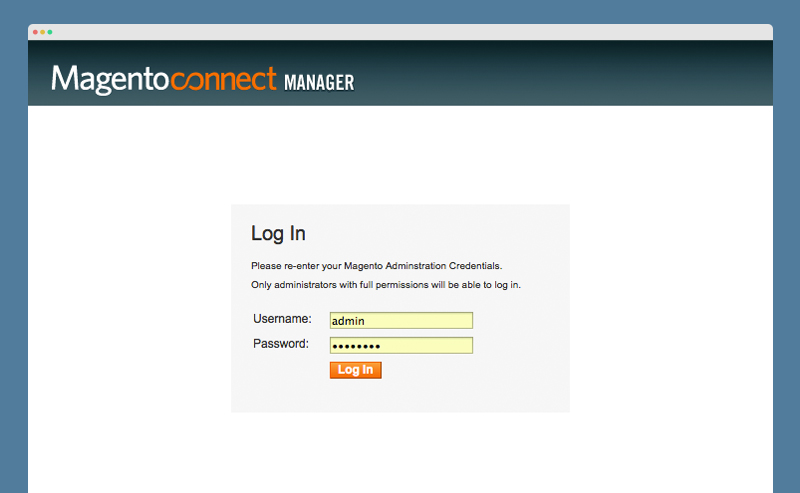 4. In the Extension tab >> Install New Extensions, click Magento Connect to search for modules.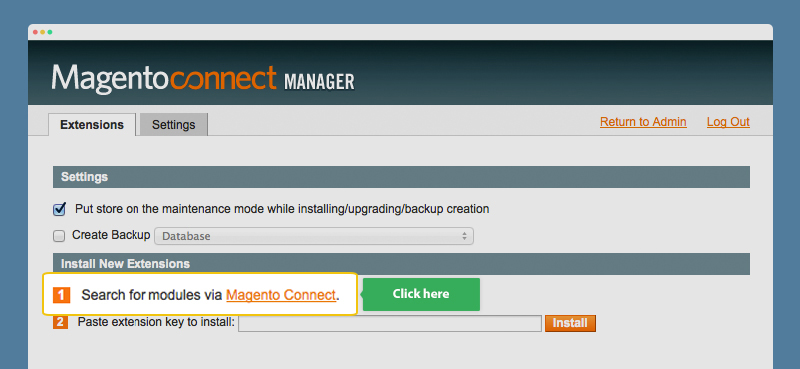 Step 2: Get Extension Key
1. Now you are redirected into Magento Connect. Select your site makeovers in Themes section or features in Utilities section.
Responsive Magento theme JM Trex will be used as the example. You can grab it for free here.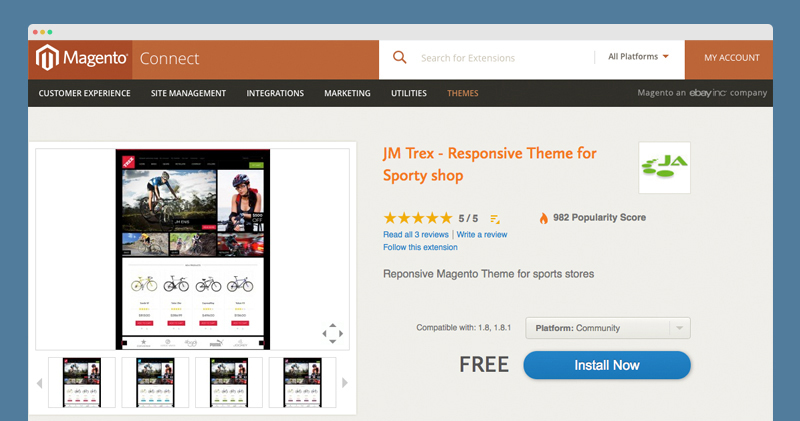 Note: Do not forget to consider about the Magento version compatibility.
2. Click Install Now to process downloading.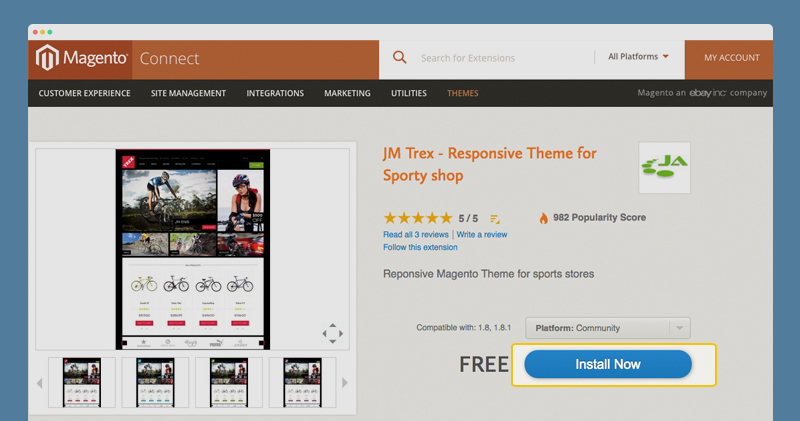 3. Check to Agree to the Extension license agreement and then click to Get Extension Key.

4. Here comes the extension key. Select it and copy to clipboard.

Step 3: Extension Installation
1. Come back to your Magento Connect Manager.
2. In the Extension tab >> Install New Extensions, paste into Extension key to install field and click Install button.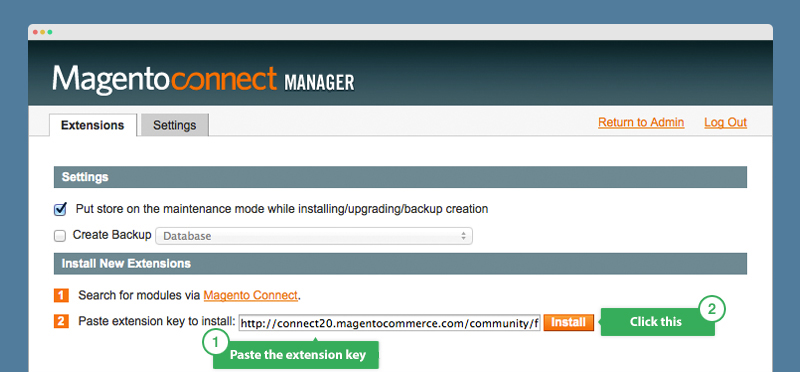 3. The Extension dependencies appears: your package is in Ready to install status. Click to Proceed.

4. Wait till you get the successful installation notification.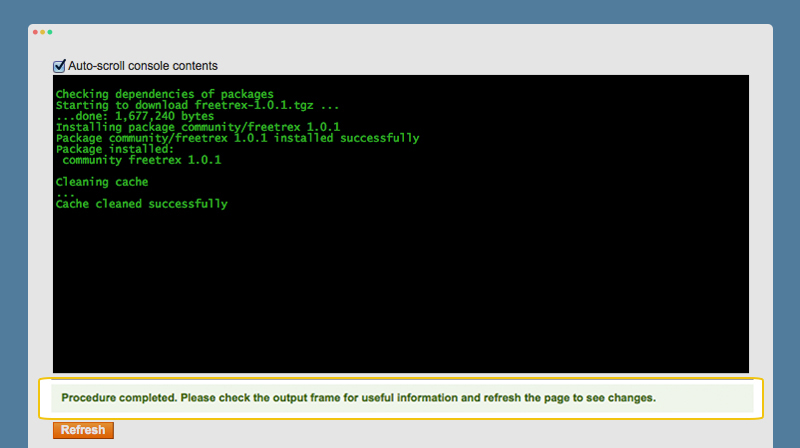 5. Click Refresh to finish.
If you are installing any Magento extensions, you can rest here as the installation is complete. However, with Magento themes, we will need to configure the theme as the following step.
Step 4: Theme Configuration
1. In the top of Magento Connect Manager, click Return to admin button.

2. In Design's Themes tab, fill into the Default field the desired theme name. e.g. jm_trex.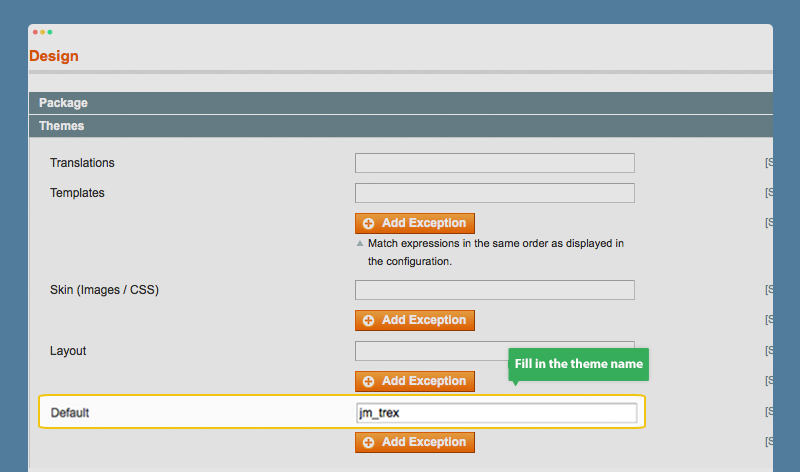 3. Click Save Config to finish. The successful configuration notification will appear.

Now it's all set!
More about Magento 2: