UB Mega Menu
Magento 2 Mega Menu Extension
Our Magento 2 mega menu is developed from the ground up. Simple yet powerful enough to create a highly customizable Magento 2 mega menu, either horizontal or vertical for your store. With many goodies in place like Drag n Drop admin interface, flexible configuration options, you can show off your product categories and sub-categories in a multi-column drop-down menu. You can promote items, banners, and clips right in the Magento 2 Mega Menu, just a few clicks away.
Magento PWA Studio Ready
(NEW) Newly added service layer for UB Mega Menu (MegaMenuGraphQL with GraphQL APIs ready for PWA Storefront)
Keep Rich Content within a simple dynamic menu
Support 3 types of menu: Custom Link, CMS Page, and Categories
(NEW) Allow classifying access to menu groups to a single or multiple customer groups (Not Logged In, General, Wholesaler, Retailer, etc.)
Support custom static blocks (defined via admin) where you can set featured products/categories in menu content.
Allow importing your category tree recursively, either all or specific categories
Allow customizing the mega menu title for SEO value. For instance, instead of using the default title tag "Women's", you can use 'Shop Women's Costumes Online at Ubertheme'.
Flexible Menu Layouts
Up to 8 different built-in menu layouts
Allow creating either Horizontal, Vertical menus or both on one page
10+ navigation effects upon hover
Mobile-Optimized
(NEW) Allow creating Drill-down menu on Mobile (in addition to the default Accordion menu type)
Fully Responsive ready
Drag n Drop Configuration
Visual and friendly user and innovative backend interface -- Drag n Drop
Configurable font awesome or uploaded custom icon
Support multiple websites, store views
Support multiple languages
Configurable attributes for columns (size, number of columns, etc.)
Manage category items shown in category menu type
Implement Ajax-based category listing (admin)
Enhancement with simplified TinyMCE editor
Easy Customization
Support custom style for each menu group and menu item of your mega menu, with additional CSS class code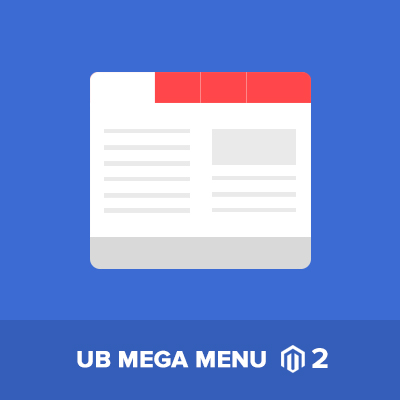 Quick Info
Rating
Last Update

June 14, 2022
Requirements

Magento 2.0+
Product Details
Magento PWA Studio Ready
Being packed with a newly added service layer – MegaMenuGraphQL, you can build a mega menu on top of Magento PWA Studio. Manage menu items of both traditional M2 & Magento PWA Storefront under a single back-end.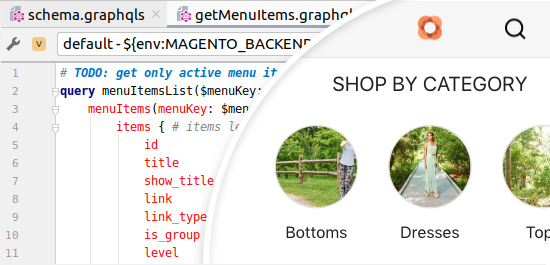 Accordion Plus Drilldown Menus
Easy to switch between the two menu approaches on mobile – Accordion (a pull-down menu where clicking the main item expands the section below it) and Drill-down menus (shows only the submenus of the last selected menu item)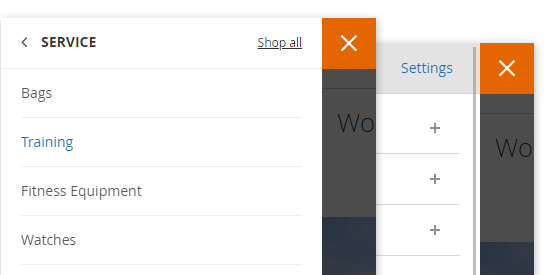 Multiple Column Magento 2 Mega Menu
Easier than ever to build a professional multiple-column layout to show off all of your categories and subcategories. Shoppers can see all of the featured product options or navigate from pages to pages with ease.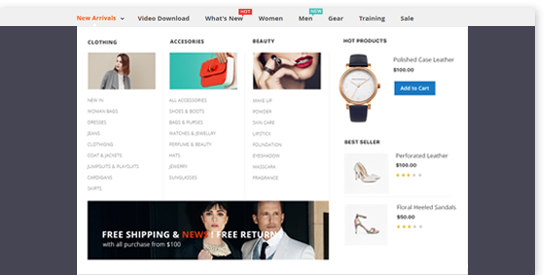 Drag n Drop built-in
Introduce a new admin panel, it gives you the ability to easily stack and arrange menu items on the fly. To adjust sort order or change the hierarchy of parent vs. child menu items is very easy, simply drag and drop menu items in the desired location.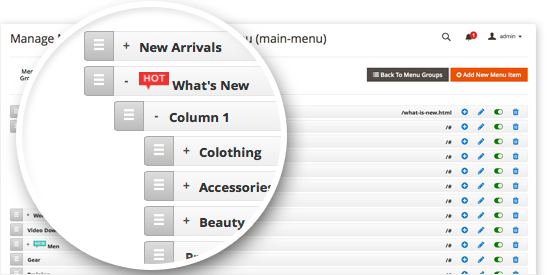 Enhanced Font Awesome Icons
Beside the option to upload custom icons, UB Mega Menu supports the latest Font Awesome version 4.5.0 too, one font with 605 Icons. These small visual aids are perfect to make scanning easier.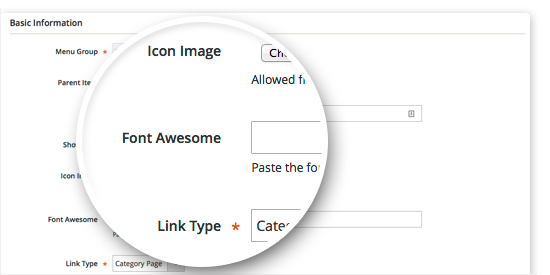 Customizable Display
UB Mega menu is easy to be customized and styled via CSS. If you wish to extend either menu group or menu items your way, you have full control over each individual part to fit your need. Endless customization possibilities with your custom CSS.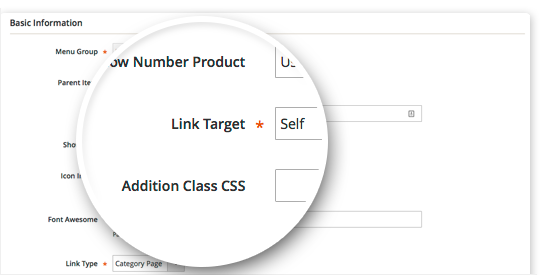 Dynamic Promotional Space
You can add plentiful contents into the menu itself: product info with great pictures; Contact form, Maps, About Us as well. Show banner, video, – all without leaving the main menu.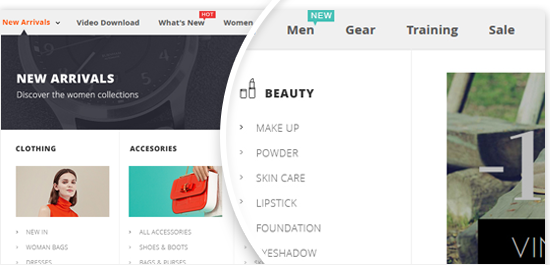 Assigning menus to customer groups
As a store owner, you can assign and restrict access to specific menu groups to the selected customer group(s) & store views. This gives an extra layer of implementing your site navigation, especially for the B2B store.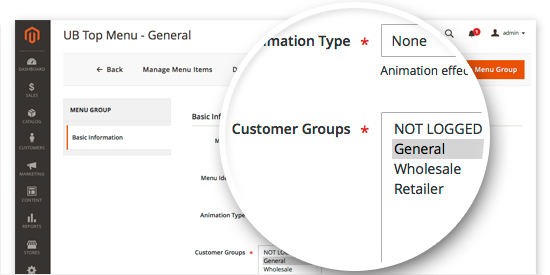 Multiple built-in animation effects
Up to 13 types of animation effects: Fade, Wave, Linear, …. Giving you ultimate control over how your menu will interact when users browse your menus. Simply select your desired effect in the configuration panel.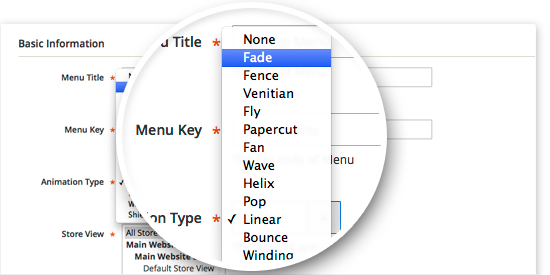 Seamlessly Import Categories
Does your store has a huge number of categories and sub-categories? It's possible to import your category tree recursively, either all or specific categories at your choice. So quite easy to add such categories in the navigation.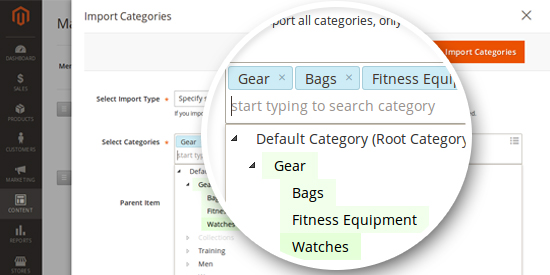 Fully Responsive Magento 2 Mega Menu
Experience a mega menu on any device. Fully optimised to work best across any device. include fast and easy navigation, renewed responsive design options. Streamlined navigation, no matter what devices are used for shopping.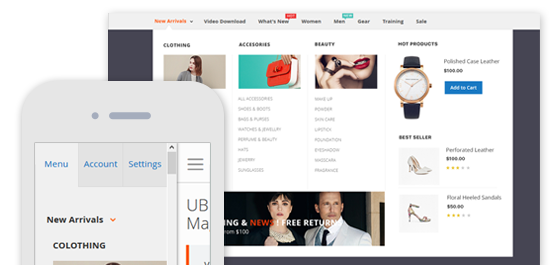 Reviews
UB Mega Menu
We appreciate the simplicity of the Mega Menu and it's administration. We really like the possibility of having a promoted product or other content in the UB Mega Menu. It would be better though to have it as a functionality of the menu and not as a widget which would help with the integration of other already used modules in Magento.
UB Mega Menu
One thing that would be great would be if we could add products to the menu. Right now we can add categories but if we want to direct link a product we have to use custom HTML, being able to just select a product to appear in the menu would make life easier.
Other than that it has been working great!
UB Mega Menu
The Extension works well… and we are definitely keeping/using it. In the beginning, we had issues because Moving Categories around was very Server Intensive and therefore slow. We literally had to upgrade the server.
But teething problems seem to have been sorted out and the extension works well.
UB Mega Menu
We are fairly satisfied with UB Mega Menu. We don't have any major complaints. No regrets purchasing. One of the developers implementing it had to do some minor tweaking but that is to be expected for the deployment we work on since almost every 3rd party extension needs to be tweaked in some way.
We do want to say thanks for keeping it compatible with the most recent version of Magento 2 (now 2.2). It would be much appreciated if you could continue to make compatibility with various versions a priority.
UB Mega Menu
Can recommend UB Mega Menu after trying other prebuilt solutions on the market.
PROS:
– Default mobile menu integrates easily and looks good.
– Management of menus in backend is logical and well structured.
– Transition options are many and easy to use.
CONS:
– Arrows for menu items are through use of image files then change of position on hover. You will likely want to change those to unicode.
– Had some issues with default CSS for dropdown menus on small screens, solved by using relative positioning instead of static.
Worth the money, it's not a plug and play solution and doesn't claim to be, will require some customization but styling uses LESS structure and is clearly commented.