This month, a new breeze is blowing into our Magento themes collection: Techzone. This theme is a whole new concept featuring Material Design.
Techzone Magento theme is a combination of random bold colored blocks, with lots of white spaces. The store is simple, minimal and clutter less. And of course this special theme will never turn you down with the new and interesting experience of Material Design applied for online store.
#1. Material design

Simple and beautiful, as you can tell while looking at Techzone.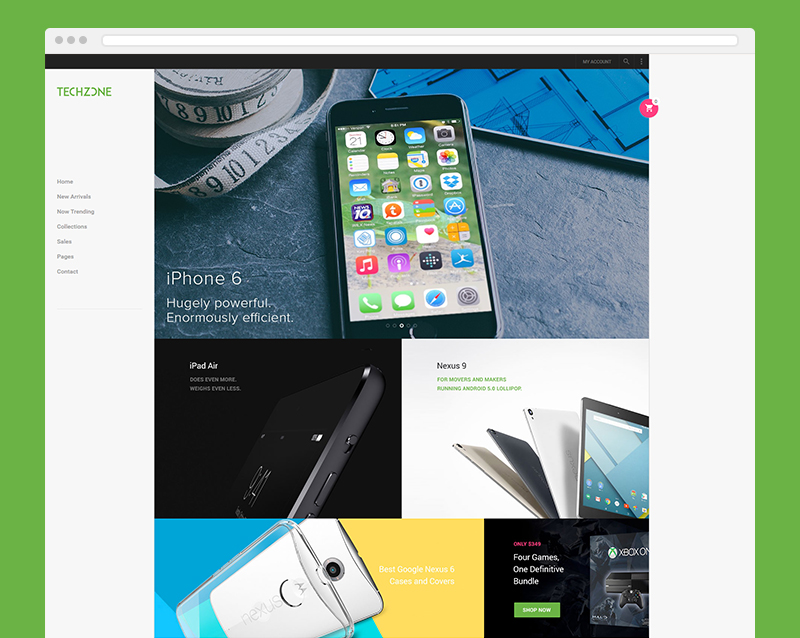 #2 Megamenu Extension
Megamenu is a smart way to display your shop's content and product, and also save the precious real estate of the web. This feature presents your store in categories and subcategories, and is useful for site with lots of content. Moreover, you can add custom blocks and banners for your promotion ideas alongside.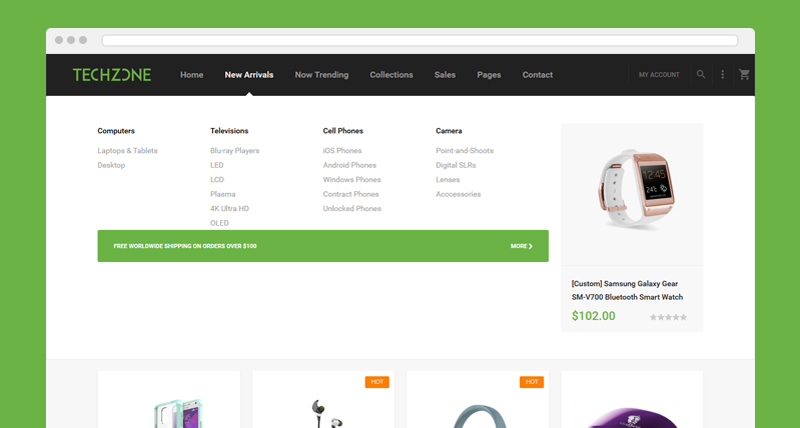 #3 Quick access to product details
With responsive Magento theme Techzone, shoppers can find the details of every item in no time. Just click on the item, a pop-up window will appear without waiting for the load of a whole page.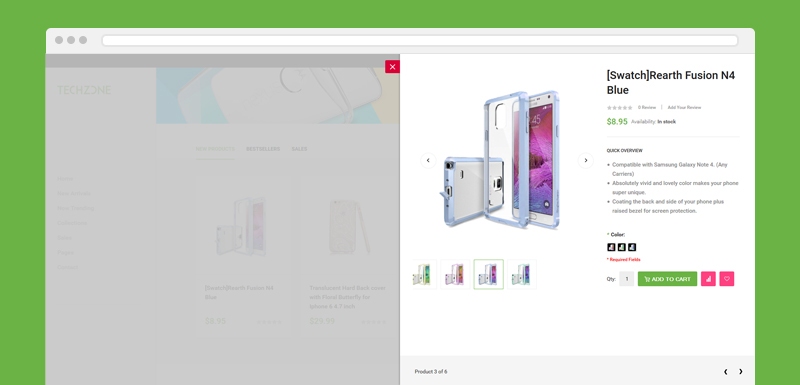 1.
#4 Multiple sliders

Displaying online merchandise with multiple sliders will enhance the shopping experience of your online lazy shoppers. Magento extension Product Slider will help the customers browsing your collection with smooth and fast transition, just like they skimming a catalogue with their own hands.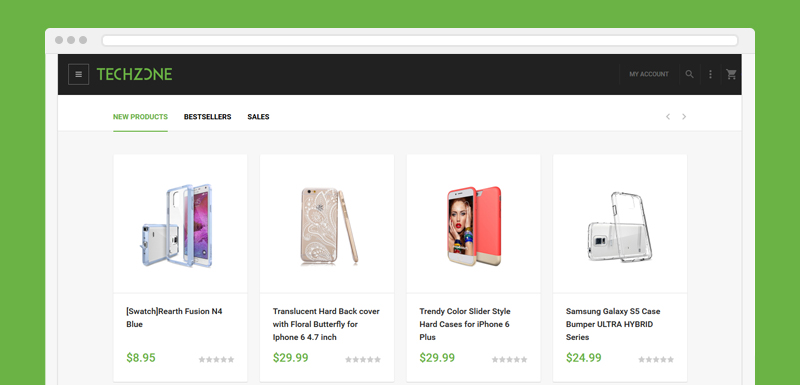 #5 Full-width responsive Slideshow
With full-width responsive slideshow your promotional messages will display excellently on any screen sizes: be it a desktop computer, an Android tablet, or your iPhone.

#6 Responsive layout for various screen types
Your website looks less convincing in a smartphone or tablet! Scary?! Techzone will never let the customer down with our smart responsive layout. Your website still looks perfect no matter what devices your customers use.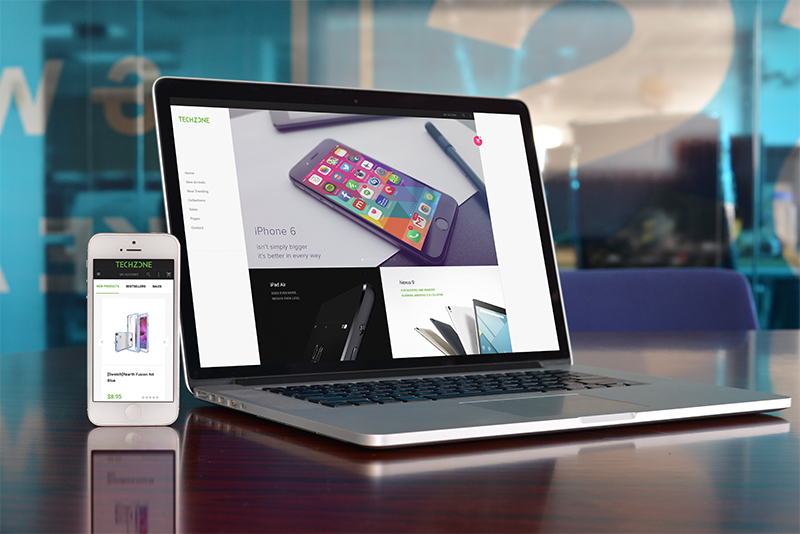 #7 Off-canvas menu
This is a smart idea for responsive Magento theme to help viewers to surf freely within the eCommerce Magento website. Off-canvas menu can give your viewers the best navigating experience to any part of your e-Store.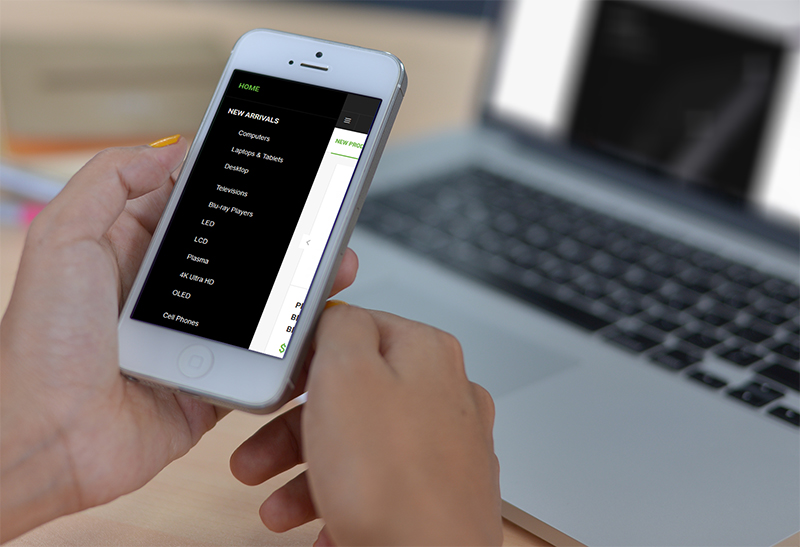 #8 Smart theme customization tools

Techzone offers five default theme colors: Violet, Orange, Red, Blue, and Green. These alternatives are right in the top panel and you can change into another skin with a simple mouse click.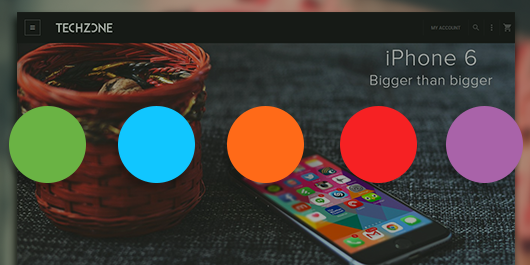 #9 Ajax Load Extension (new extension)

We are happy bundle our latest extension Product Ajax Load into Techzone. It is a "wrapper" around the jQuery plugin Infinite Ajax Scroll, pre-loading the next page before the user reaches the bottom of the page. Your customers will feel no delay in their shopping trip, and we both know that's a good news!
#10 Shop by Extension (new extension)

Shop By extension allows customers find the right product with multiple attributes for users to filter. No need to browse pages one after another, just use the filter, its fast and easy.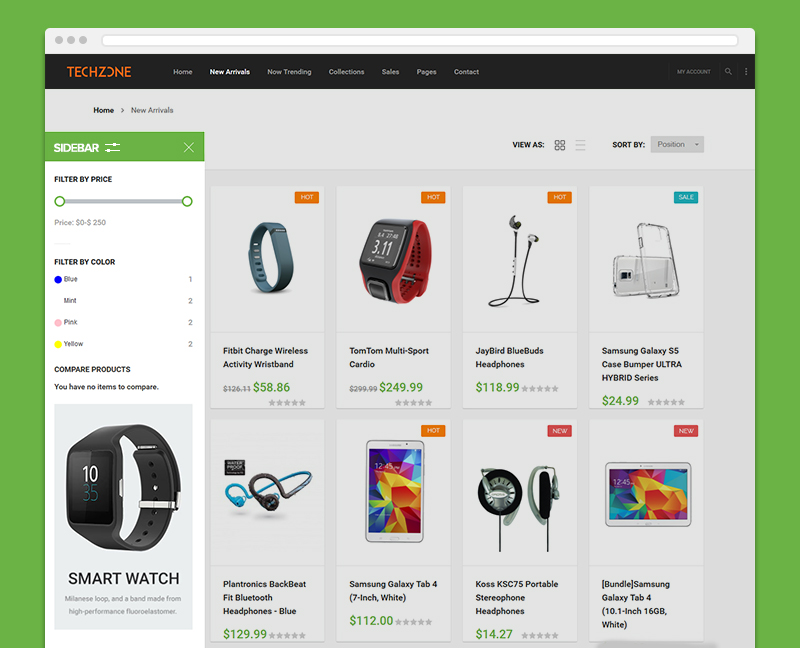 That's a quick intro for our latest responsive Magento theme Techzone. Go explore it yourself to know more and don't forget to write down your views in our comment section!