July 17, 2019 Update:
In case you missed, UB Trex Pro -- a premium theme has been released! It features 5 product page layouts, advanced custom tabs, infinite scrolling, plus built-in UB Mega Menu, UB Content Slider, UB Quick View module. And much more!
Today we are happy to announce that UB Trex (beta) -- our first free Magento 2 theme -- is available for download. A lot of work has gone into this dedicated free theme since we announced the first public preview.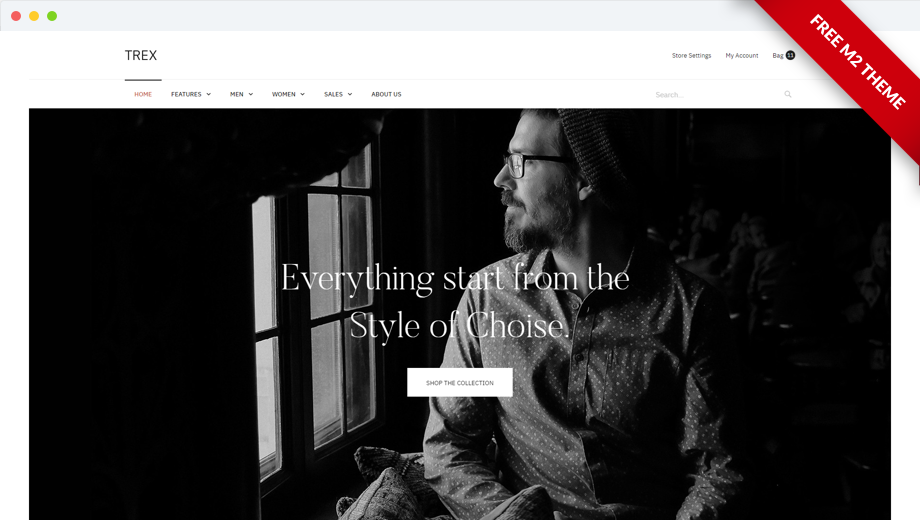 New to Magento 2? Perfect, UB Trex can probably be your practical first step and just what you would need to start with for your first online store. UB Trex is clean and simple, highlights the flat and minimalistic design.
Along with responsive layout, UB Trex has the Item List page with 2 styles: List view and Grid view that can be easily adapted to feature any product range.
We carefully test the integration with our premium Magento 2 extensions -- UB Mega Menu, UB Content Slider, UB Quick View (need separate purchase) -- most of the work is finished and ready for you to take advantage of. These extensions are built in the UB Trex demo for preview purpose which gives you an example of how you can extend the theme with additional functionalities.
Hands on to download UB Trex and make it yours!
Let's zoom in cool features included in this free Magento 2 theme UB Trex.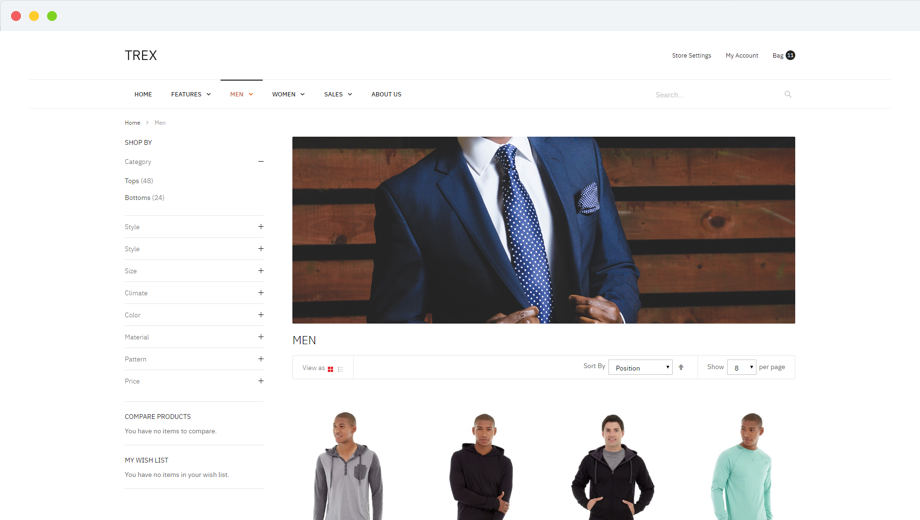 Minimalistic Flat design
With a purely flat design, UB Trex is left with clean and performance-focused (faster, and more efficient). Not to mention lots of white space, the bright gamut and a sleek layout with a rational frequency of promotional block, UB Trex delivers a modern look and feel in your eCommerce store.
Fully Responsive Design
Adopting flat design brings great scalability when it comes to designing for multiple devices. You can make it once and are assured that it would look great on all screen sizes, that on the other hand, guarantee your user experience to stay the same through any of web related browser and devices.
Sticky Navigation Header
Often while browsing in an online store, we are lost in categories after categories, products after products. The fixed navigation header will make sure you stay on track and always find yourself a way back to home.
Flexible List and Grid View
Users can switch between product list and grid layout when they browse or filter product list. It's a pretty cool feature, shoppers can choose if they want to see just the product images or images with product info.
Infinite Scrolling
UB Trex inherits this awesome feature from Magento 2 theme -- Crafts 2.0. The users can carry on browsing the catalog by scrolling down without navigate to other pages. Needless to say, content is your best friend!
What do you think?
If you have any more ideas or suggestions for this free Magento 2 theme, we would love to hear from you! Our forum is the place to get in touch and interact with us. Or drop us a message via info (at) ubertheme.com.
Happy theme-ing!
Related Articles :